HSTK Recognized as One of the Most Reviewed Software Development Companies in Phoenix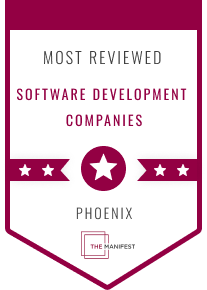 HSTK Haystack is a client-oriented software development company. We provide our partners with the tools and skills they require to build outstanding experiences. Moreover, we help our customers create solutions with utmost efficiency and precision. Today, we're pleased to report that we've been recognized as a leading service provider in 2022. Right now, you can discover us on The Manifest as one of the most reviewed software development companies in Phoenix!
With the modernization of the business space, there was a demand for technical proficiency in software development. But we believe that what separates a great developer from others is having the dedication to build unparalleled software as if it was their own. For this reason, we banded together, and HSTK Haystack was established — all to build exemplary digital products alongside our partners.
Most Recent Review
Riders United is an outdoor-oriented startup that partnered with us to build a one-of-a-kind mobile solution. We helped the client conceptualize and plan the digital side to craft a tailored experience.
The client was impressed with the quality of the deliverables and was satisfied with the project management. Here's what they said about the engagement:
"They're very helpful — a lot of the technology is new to me, but they make it clear cut. Overall, they're a great company, and I can't wait to work with them in the future."
— Shane Routery, Owner, Riders United
In 2022
The Manifest announces the top B2B companies in Phoenix, and we're proud to be recognized as one of the most reviewed software development companies in the area. We would like to thank all of our partners for being incredibly supportive and giving us such wonderful feedback.
If you're interested in building a product with us, please get in touch and let us know how we can help!